PAUL FREES (1920-1986) FILMOGRAPHY on IMDB

Frees was a very popular voice over actor in many movies that span from the early 50 to the late 80's. He has voiced over so many films that chances are you have heard him somewhere in a television program or movie. in the Rumored that he get his start as the Pillsbury Dough Boy and has vocal talent that spans many famous movies and animated shorts. He was also the voice talent on many rides in the Disney Land park such as the "Ghost Host narrator in "Haunted Mansion" and many of the Pirates in "Pirates of the Caribbean."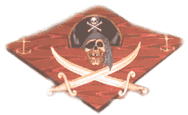 Frees did voices for "Santa" from Frosty the Snow Man, Fred, from Super Chicken, Ape and other voices in George of the jungle, Boris from Rocky and Bullinkle and Hundreds more. Paul Frees has worked in animation for well over fifty years. Some of the most famous voice action jobs included Morocco Mole from The Secret Squirrel Show, the narrator of George of the Jungle, and Thing from the original Fantastic Four series. In total, Mr. Frees lent his voice to over 200 cartoons, not including the writing/directing/composing talents of his 1960 film, The Beatniks. Sadly, Paul Frees passed away in 1986, leaving behind a legacy of memories and enjoyment.Check out his very interesting filmography here on the Internet Movie Database or below.

Birth name
Solomon Hersh Frees
Date of birth: 22 June 1920,
Chicago, Illinois, USA
Date of death: 2 November 1986,
Tiburon, California, USA. (Heart Failure)

Sometimes Credited As:
Paul H. Frees
Paul Frees

Some of the characters Paul Frees has voiced.
Ape from George of the Jungle

Fred from Super Chicken

Boris From The Adventures of Rocky & Bullwinkle

Fenwick from Dudley Do-Right

And hundreds more! See them below.

--------------------------------------------------------------------------------
Filmography as: Actor, Writer, Miscellaneous crew, Director, Composer, Notable TV guest appearances
--------------------------------------------------------------------------------

Actor - filmography
(1980s) (1970s) (1960s) (1950s) (1940s)
Puppetoon Movie, The (1987) (voice) .... Arnie the Dinosaur, Pillsbury Doughboy

Wind in the Willows, The (1987) (TV) (voice) .... Wayfarer

Fantasy Film World of George Pal, The (1985) (voice) .... Narrator

Twice Upon a Time (1983) (voice) .... Narrator/Chef of State/Judges/Bailiff

Flight of Dragons, The (1982) (uncredited) (voice) .... Antiquity
... aka Flight of the Dragon (1982)

Last Unicorn, The (1982) (voice) .... Mabruk

Woody Woodpecker and His Friends (1982) (V) (voice) .... Various Voices

Day After Trinity, The (1980) (voice) .... Narrator

Return of the King, The (1980) (TV) .... Goblin, ElrondJack Frost (1979) (TV) (voice) .... Kubla Kraus

Rudolph and Frosty's Christmas in July (1979) (TV) (voice) .... Winterbolt

Stingiest Man in Town, The (1978) (TV) (voice) .... Ghost of Christmas Past/Ghost of Christmas Present

Hobbit, The (1978) (TV) (voice) .... Bombur/Troll #1

Hardware Wars (1977) (voice) .... Narrator

Nestor, the Long-Eared Christmas Donkey (1977) (TV) (voice) .... Olaf/Donkey dealer

First Easter Rabbit, The (1976) (TV) .... Zero

Frosty's Winter Wonderland (1976) (TV) (voice) .... Jack Frost


Midway (1976) (uncredited) (voice) .... Voice of Admiral Isoroku Yamamoto
... aka Battle of Midway, The (1976) (USA: video title)

Doc Savage: The Man of Bronze (1975) (uncredited) .... Narrator

Milpitas Monster, The (1975) (voice) .... Narrator

Rudolph's Shiny New Year (1975) (TV) (voice) .... Santa Claus/Eon/General Ticker/Seventeen Seventy Three 'Sev'

"Run, Joe, Run" (1974) TV Series .... Narrator

Willie Mays and the Say-Hey Kid (1972) (TV) (voice) .... Iguana

"Osmonds, The" (1972) TV Series

Abominable Dr. Phibes, The (1971) .... Singer of "The Darktown Strutters' Ball" (voice)
... aka Curse of Dr. Phibes, The (1971)
... aka Dr. Phibes (2000) (USA: promotional title)

Bunglin' Builder, The (1971) (voice) .... Charlie Beary

Charlie the Rainmaker (1971) (voice) .... Charlie Beary

Here Comes Peter Cottontail (1971) (TV) (voice)

Moochin' Pooch (1971) (voice) .... Charlie Beary

Point, The (1971) (TV) (voice) .... King Leaf Man

Charlie in Hot Water (1970) (voice) .... Charlie Beary

Charlie's Golf Classic (1970) (voice) .... Charlie Beary

Santa Claus Is Comin' to Town (1970) (TV) (voice) .... Burgermeister Meisterburger/Grimsby/Soldiers/Townsmen/

Un-Handy Man, The (1970) (voice) .... Charlie Beary

Beneath the Planet of the Apes (1970) (voice) (uncredited) .... Ending voice-over

Mad, Mad, Mad Comedians, The (1970) (TV) (voice) .... W.C. Fields
"Pink Panther Show, The" (1969) TV Series .... The Commissioner

Charlie's Campout (1969) (voice) .... Charlie Beary

Colossus: The Forbin Project (1969) (uncredited) (voice) .... Colossus
... aka Colossus 1980 (1969)
... aka Day the World Changed Hands, The (1969)
... aka Forbin Project, The (1969)

Cool It, Charlie (1969) (voice) .... Charlie Beary

Gopher Broke (1969) (voice) .... Charlie Beary

Frosty the Snowman (1969) (TV) (voice) .... Santa Claus, Traffic Cop, various

"Dudley Do-Right Show, The" (1969) TV Series (voice) .... Inspector Ray K. Fenwick

Bugged in a Rug (1968) (voice) .... Charlie Beary

Jerky Turkey (1968) (voice) .... Charlie Beary

Little Drummer Boy, The (1968) (TV) (voice) .... Aaron's Father, the Magi

Paste Makes Waste (1968) (voice) .... Charlie Beary

"Banana Splits Adventure Hour, The" (1968) TV Series (voice) .... Evil Vangor
... aka "Banana Splits and Friends, The" (1968) (USA: syndication title)

La Feet's Defeat (1968) (voice) .... Commissioner

Le Great Dane Robbery (1968) (voice) .... Commissioner

Wild in the Streets (1968) (voice) .... Narrator

"George of the Jungle" (1967) TV Series (voice) .... Narrator/Ape Named Ape/Commissioner/Plumtree/Weevil/Fred/Baron Otto Matic/Additional Voices

Bear That Wasn't, The (1967) (voice) .... Narrator

"Super President" (1967) TV Series (voice) .... James Norcross/Super President/Narrator

"Atom Ant/Secret Squirrel Show, The" (1967) TV Series (voice) .... Morocco Mole

"Fantastic Four, The" (1967) TV Series (voice) .... Benjamin J. Grimm/Thing/, Watcher, Others

Kingukongu no gyakushu (1967) (voice) .... Dr. Who (US Version)
... aka King Kong Escapes (1968) (USA)
... aka King Kong Strikes Again (1967) (International: English title: literal title)
... aka King Kong's Counterattack (1967) (International: English title: literal title)
... aka Revenge of King Kong, The (1967)

St. Valentine's Day Massacre, The (1967) (uncredited) .... Narrator

Le Escape Goat (1967) (voice) .... Commissioner

Le Bowser Bagger (1967) (voice) .... Commissioner

Bomb Voyage (1967) (voice) .... Commissioner

Quiet Squad, Le (1967) (voice) .... Commissioner

Mouse in the House (1967) (voice) .... Charlie Beary

Sacré Bleu Cross (1967) (voice) .... Hassan the Assassin

Window Pains (1967) (voice) .... Charlie Beary

"Laurel and Hardy Cartoon, A" (1966) TV Series

"Uncle Waldo's Cartoon Show" (1966) TV Series .... Fillmore the Bear

Grand Prix (1966) (uncredited) (voice) .... Izo Yamura

Man Called Flintstone, The (1966) (voice) .... Rock Slag

Unsafe and Seine (1966) (voice) .... Commissioner/Pub Waiter/Patrons

That's No Lady, That's Notre Dame (1966) (voice) .... Commissioner

"Frankenstein Jr. and the Impossibles" (1966) TV Series (voice) .... Fluid Man

"Super 6, The" (1966) TV Series (voice) .... Brother Matzoriley #1

Pique Poquette of Paris, The (1966) (voice) .... Spider Pierre

Ape Suzette (1966) (voice) .... Cockney Sailor

Cock-a-Doodle Deux-Deux (1966) (voice) .... Commissioner

Plastered in Paris (1966) (voice) .... Commissioner

Cirrhosis of the Louvre (1966) (voice) .... Commissioner

Reaux, Reaux, Reaux Your Boat (1966) (voice) .... Crab Louie

Foot Brawl (1966) (voice) .... Charlie Beary

Great De Gaulle Stone Operation, The (1965) (voice) .... Three-Headed Villain

War Lord, The (1965) (uncredited) (voice) .... Narrator

Sword of Ali Baba, The (1965) .... Narrator, various male voices

"Secret Squirrel Show, The" (1965) TV Series (voice) .... Morocco Mole

"Beatles, The" (1965) TV Series (voice) .... John/George

Goofy's Freeway Troubles (1965) (uncredited) (voice) .... Narrator
... aka Freewayphobia #2 (1965)

Pink Panzer (1965) (voice)

Davey Cricket (1965) (voice) .... Charlie Beary

Pinkfinger (1965) (voice)

Sink Pink (1965) (voice)

Guest Who? (1965) (voice) .... Charlie Beary

Outlaws Is Coming, The (1965) (uncredited) (voice) .... Narrator,The voice of 'The Magic Talking Mirror
... aka Three Stooges Meet the Gunslingers (1965) (UK)

Night Walker, The (1964) (uncredited) (voice) .... Narrator
... aka Dream Killer, The (1964)

Disorderly Orderly, The (1964) (uncredited) (voice) .... Opening Narrator

Earth Worm Turns, The (1964) (TV) .... Ignatz/Officer Pupp/announcer

Roof-Top Razzle Dazzle (1964) (voice) .... Charlie Beary

"Hoppity Hooper" (1964) TV Series .... Boris Badenov
... aka "Adventures of Hoppity Hooper, The" (1964)

"Famous Adventures of Mr. Magoo, The" (1964) TV Series (voice) .... Various

Robin and the 7 Hoods (1964) (uncredited) (voice) .... Radio Announcer

Rah, Rah, Ruckus (1964) (voice) .... Charlie Beary

Flight from Ashiya (1964) (uncredited) (voice) .... Narrator
... aka Ashiya kara no hiko (1964) (Japan)

Carpetbaggers, The (1964) (uncredited) .... Narrator

Incredible Mr. Limpet, The (1964) (voice) .... Crusty

"Fractured Flickers" (1963) TV Series .... Voice

Goose Is Wild (1963) (voice) .... Charlie Beary

"Krazy Kat" (1963) TV Series (uncredited) .... OfIgnatz Mouse, Officer Pupp

"Beetle Bailey and His Friends" (1963) TV Series .... Barney Google/Snuffy Smith/Ignatz Mouse/Officer Bull Pupp/Mr. Kolin Kelly

Goose in the Rough (1963) (voice) .... Charlie Beary

List of Adrian Messenger, The (1963) (uncredited) (voice) .... Various Voices

Charlie's Mother-in-Law (1963) (voice) .... Charlie Beary

"Adventures of Hoppity Hopper from Foggy Bogg" (1962) TV Series (voice) .... Narrator

Public Affair, A (1962) .... Narrator

Taras Bulba (1962) (uncredited) (voice) .... Narrator

Symposium on Popular Songs, A (1962) (voice) .... Ludwig Von Drake

Mr. Magoo's Christmas Carol (1962) (TV) (voice) .... Charity Man, Fezziwig, Eyepatch Man, Tall Tophat Man

Mouse Blanche (1962) .... Ignatz/Officer Pupp

Corny Concerto (1962) (voice) .... Doc

Gay Purr-ee (1962) (voice) .... Meowrice

Manchurian Candidate, The (1962) (voice) (uncredited) .... Narrator

Punch Pooch (1962) (voice) .... Doc

Et Tu Otto (1962) (uncredited) .... Champlain/Cosmo/Rocky/Various

Keeping Up with Krazy (1962) .... Ignatz Mouse/Officer Pupp

Take Me to Your Gen'rul (1962) .... Snuffy Smith/Barney Google

Mother's Little Helper (1962) (voice) .... Charlie Beary

Snuffy's Song (1962) .... Barney Google/Snuffy Smith

Psychological Testing (1962) .... Lt. Fuzz/Lt. Forbes/Sgt. Tortoese

Fowled-Up Birthday (1962) (voice) .... Charlie Beary

Pest of the Show (1962) (voice) .... Doc

"Dick Tracy Show, The" (1961) TV Series (voice) .... BB Eyes/The Brow/Cheater Gunsmoke/Flat Top (II)/Go Go Gomez (II)/Itchy/The Mole/Mumbles/Oodles/The Retouchables

Four Horsemen of the Apocalypse (1961) (uncredited) (voice) .... Voice of Resistance Driver

Doc's Last Stand (1961) (voice) .... Doc

"Calvin and the Colonel" (1961) TV Series (voice) .... Oliver Wendell Clutch

"Top Cat" (1961) TV Series (uncredited) .... Various voices
... aka "Boss Cat" (1961) (UK)

"Bullwinkle Show, The" (1961) TV Series (voice) .... Boris Badenov/Captain Peachfuzz/Cloyd/Inspector Fenwick
... aka "Adventures of Bullwinkle and Rocky" (1961)
... aka "Rocky and His Friends" (1961)

Atlantis, the Lost Continent (1961) (uncredited) (voice) .... Narrator

Absent-Minded Professor, The (1961) (voice) .... Radio Announcer

One Hundred and One Dalmatians (1961) (voice) .... Dirty Dawson

"Disneyland" (1954) TV Series (voice) .... Ludwig Von Drake (1961-1983)
... aka "Disney's Wonderful World" (1979) (new title)
... aka "Walt Disney Presents" (1958) (new title)
... aka "Walt Disney" (1981) (new title)
... aka "Walt Disney's Wonderful World of Color" (1961) (new title)
... aka "Wonderful World of Disney, The" (1969) (new title)

Beatniks, The (1960) (voice) .... Various voices

Time Machine, The (1960) (uncredited) (voice) .... Talking Rings

Where the Boys Are (1960) (uncredited) (voice) .... Narrator

Bats in the Belfry (1960) (voice)

Bells Are Ringing (1960) (uncredited) .... Several voices in 'Drop That Name'

Freeloading Feline (1960) (voice) .... Doc
Attack of the Jungle Women (1959) .... Narrator Voice/Paul Limon
... aka Barbarian Women (1959) (USA)

Mouse Trapped (1959) (voice) .... Doc

"Rocky and His Friends" (1959) TV Series .... Boris Badenov\Cloyd Moonman\Captain Peter Wrongway Peachfuzz\Various

Noah's Ark (1959) (voice)

"Matty's Funday Funnies" (1959) TV Series (voice) .... Additional Voices
... aka "Beany and Cecil" (1962) (USA: new title)
... aka "Matty's Funnies with Beany and Cecil" (1962) (USA: new title)

Space Mouse (1959) (voice) .... Doc

Donald in Mathmagic Land (1959) (uncredited) (voice) .... The True Spirit of Adventure

Some Like It Hot (1959) (uncredited) (voice) .... Josephine (voice) (uncredited)

Shaggy Dog, The (1959) (uncredited) .... Psychiatrist/Narrator

Witty Kitty (1959) (voice) .... Doc

Space Master X-7 (1958) .... Dr. Charles T. Pommer
... aka Blood Rust (1958) (USA)
... aka Mutiny in Outer Space (1958)

Time to Love and a Time to Die, A (1958) (uncredited) (voice) .... Several characters
... aka Will o' the Wisp (1958)

"Naked City" (1958) TV Series (uncredited) .... Narrator (1958-1963)

Bijo to Ekitainingen (1958) (voice) .... Various Voices
... aka Beauty and the Liquidman (1958) (International: English title: literal title)
... aka H-Man, The (1959) (USA)

Cosmic Capers (1957) (voice) .... Narrator

Jet Pilot (1957) (uncredited) .... Lt. Tiompkin

Monolith Monsters, The (1957) (voice) (uncredited) .... Narrator

Snezhnaya koroleva (1957) (voice) .... Ol Dreamy/the Raven
... aka Snow Queen, The (1957)
... aka óÎÅÖÎÁÑ ËÏÒÏÌÅ×Á (1957) (Soviet Union: Russian title: original Cyrillic KOI8-R title)

"Woody Woodpecker Show, The" (1957) TV Series (voice) .... The Beary Family/Doc/Paw/Wally Walrus

27th Day, The (1957) (uncredited) .... Newscaster

Beginning of the End (1957) (uncredited) .... Helicopter Pilot (dubbed voice)

Earth vs. the Flying Saucers (1956) (uncredited) (voice) .... Narrator/Alien Voice
... aka Invasion of the Flying Saucers (1956)

Francis in the Haunted House (1956) (voice) .... Francis the Talking Mule

Ilja Muromets (1956) .... Colin (English Version)
... aka Epic Hero and the Beast, The (1956) (UK)
... aka Sword and the Dragon, The (1960) (USA)
... aka éÌØÑ íÕÒÏÍÅà (1956) (Soviet Union: Russian title: original Cyrillic KOI8-R title)

Sora no daikaijû Radon (1956) .... Voice
... aka Radon (1956)
... aka Radon, Monster from the Sky (1956) (literal English title)
... aka Rodan (1956)
... aka Rodan! The Flying Monster (1957) (USA)

Blue Cat Blues (1956) (uncredited) (voice) .... (uncredited)

Down Beat Bear (1956) (uncredited) (voice) .... 1st Radio Announcer

Harder They Fall, The (1956) (uncredited) .... Priest

Scarlet Coat, The (1955) (uncredited) .... Narrator

Rains of Ranchipur, The (1955) (uncredited) .... Sundar

Cellbound (1955) (uncredited) .... The Prisoner/George the Warden/The Little Wife

Prince of Players (1955) .... Francisco in 'Hamlet'

Son of Sinbad (1955) (uncredited) .... Mahmud
... aka Nights in a Harem (1955)

"Millionaire, The" (1955) TV Series (voice) .... John Beresford Tipton (1955-60)
... aka "If You Had a Million" (1955)

Suddenly (1954) .... Benny Conklin (also uncredited TV announcer voice)

Farm of Tomorrow (1954) (uncredited) (voice) .... Narrator

Homesteader Droopy (1954) (uncredited) .... Narrator (voice)

Sleepy-Time Squirrel (1954) (uncredited) .... Barney Bear, Jimmy Squirrel (voices)

Impossible Possum, The (1954) (uncredited) (voice) .... Barney Bear

Riot in Cell Block 11 (1954) .... Monroe

Half-Pint Palomino (1953) (uncredited) .... Barney Bear (voice)

War of the Worlds, The (1953) .... Radio Reporter

Wee-Willie Wildcat (1953) (uncredited) .... Barney Bear, William Wildcat (voices)

T.V. of Tomorrow (1953) (uncredited) (voice) .... Narrator

Heir Bear (1953) (uncredited) .... Barney Bear/Gopher/Tax Collector (voices)

Cobs and Robbers (1953) (uncredited) .... Barney Bear, Joe Scarecrow, Crows (voices)

Barney's Hungry Cousin (1953) (uncredited) .... Barney Bear (voice)

Missing Mouse, The (1953) (uncredited) (voice) .... Radio Announcer

Assignment: Paris (1952) (uncredited) .... Story Narrator/Radio Budapest Announcer
... aka European Edition (1952) (USA)

Million Dollar Mermaid (1952) (uncredited) .... Band Leader
... aka One Piece Bathing Suit, The (1952) (UK)

Busybody Bear (1952) (uncredited) .... Barney Bear/Buck Beaver (voices)

Star, The (1952) .... Richard Stanley

Cruise Cat (1952) (uncredited) (voice) .... Ship's Captain

Big Sky, The (1952) (uncredited) .... Louis MacMasters

Cripple Creek (1952) (voice) .... Narrator

Las Vegas Story, The (1952) (uncredited) .... District Attorney

Thing From Another World, The (1951) (uncredited) .... Dr. Vorhees
... aka Thing, The (1951)

When Worlds Collide (1951) (uncredited) (voice) .... Narrator/U.S. President

People Against O'Hara, The (1951) (voice) (uncredited) .... Squawk Box Voice of Korvac Brother

His Kind of Woman (1951) (uncredited) .... Corley

Place in the Sun, A (1951) .... Morrison

Jerry's Cousin (1951) (uncredited) (voice) .... Cousin Muscles
... aka City Cousin (1951)
... aka Muscles Mouse (1951)

Atoll K (1950) .... English Narrator
... aka Atollo K (1950) (Italy)
... aka Escapade (1950)
... aka Robinson Crusoeland (1950) (UK)
... aka Utopia (1954) (USA)

Hunt the Man Down (1950) .... Packy Collins
... aka Seven Witnesses (1950) (USA)

Toast of New Orleans, The (1950) (uncredited) (voice) .... Narrator

Primitive Pluto (1950) (uncredited) (voice) .... Primo

Jerry and the Lion (1950) (uncredited) .... Radio Announcer
... aka Hold That Lion (1950)

Punchy de Leon (1950) (voice) .... Crow

Red Light (1949) .... First bellhop

Magic Fluke (1949) (voice) .... Crow

Force of Evil (1948) (uncredited) .... Elevator Operator
... aka Numbers Racket, The (1948) (USA)
... aka Story of Tucker's People, The (1948) (USA)

Robin Hoodlum (1948) (voice) .... Crow

Tooth or Consequences (1947) (voice) .... Crow

Mysto-Fox (1946) (voice) .... Crow

Unsure Runts (1946) (voice) .... Crow

Foxey Flatfoots (1946) (voice) .... Crow

Phoney Baloney (1945) (voice) .... Crow

Treasure Jest (1945) (voice) .... Crow

Ku-Ku Nuts (1945) (voice) .... Crow

Egg-Yegg, The (1945) (voice) .... Crow

Be Patient, Patient (1944) (voice) .... Crow

Mr. Moocher (1944) (voice) .... Crow

Dream Kids, The (1944) (voice) .... Crow

Way Down in the Corn (1943) (voice) .... Crow
... aka Way Down Yonder in the Corn (1943)

Room and Bored (1943) (voice) .... Crow

A-Hunting We Won't Go (1943) (voice) .... Crow

Tree for Two (1943) (voice) .... Crow

Plenty Below Zero (1943) (voice) .... Crow

Slay It with Flowers (1943) (voice) .... Crow

Toll Bridge Troubles (1942) (voice) .... Crow
... aka Toll Troubles (1942)

Woodsman, Spare That Tree (1942) (voice) .... Crow

Fox and the Grapes, The (1941) (voice) .... Crow

--------------------------------------------------------------------------------
Filmography as: Actor, Writer, Miscellaneous crew, Director, Composer, Notable TV guest appearances
--------------------------------------------------------------------------------

Writer - filmography
(1960s) (1950s)
Beatniks, The (1960)

"Matty's Funday Funnies" (1959) TV Series (writer)
... aka "Beany and Cecil" (1962) (USA: new title)
... aka "Matty's Funnies with Beany and Cecil" (1962) (USA: new title)

--------------------------------------------------------------------------------
Filmography as: Actor, Writer, Miscellaneous crew, Director, Composer, Notable TV guest appearances
--------------------------------------------------------------------------------

Miscellaneous crew - filmography
(1960s) (1950s)
Kingukongu no gyakushu (1967) (dubbing director) (US version)
... aka King Kong Escapes (1968) (USA)
... aka King Kong Strikes Again (1967) (International: English title: literal title)
... aka King Kong's Counterattack (1967) (International: English title: literal title)
... aka Revenge of King Kong, The (1967)

Cyclops, The (1957) (vocal effects)

--------------------------------------------------------------------------------
Filmography as: Actor, Writer, Miscellaneous crew, Director, Composer, Notable TV guest appearances
--------------------------------------------------------------------------------

Director - filmography
Beatniks, The (1960)

--------------------------------------------------------------------------------
Filmography as: Actor, Writer, Miscellaneous crew, Director, Composer, Notable TV guest appearances
--------------------------------------------------------------------------------

Composer - filmography
Beatniks, The (1960) (songs)

--------------------------------------------------------------------------------
Filmography as: Actor, Writer, Miscellaneous crew, Director, Composer, Notable TV guest appearances
--------------------------------------------------------------------------------

Notable TV guest appearances
"Hawaii Five-O" (1968) playing "McGarrett imposter"(voice) (uncredited) in episode: "Ninety-Second War (Part 1), The" (episode # 4.16) 1/11/1972
"Hawaii Five-O" (1968) playing "Goro Shobata"(voice) (uncredited) in episode: "Odd Man In" (episode # 4.14) 1/4/1972
"Nanny and the Professor" (1970) playing "Voice of the '30's" in episode: "Great Broadcast of 1936, The" (episode # 2.7) 11/6/1970
"Hoppity Hooper" (1964) playing "Giant"(voice) in episode: "Giant of Hootn' Holler" (episode # 1.5) 11/15/1964
"Hoppity Hooper" (1964) playing "Nostra"(voice) in episode: "Costra Nostra" (episode # 1.4) 10/30/1964
"Hoppity Hooper" (1964) playing "Costra"(voice) in episode: "Costra Nostra" (episode # 1.4) 10/30/1964
"Hoppity Hooper" (1964) playing "Sires Bloogerhorn/One Way Windrimp"(voice) in episode: "Ring-a-Ding Springs" (episode # 1.1) 9/26/1964
"Beetle Bailey and His Friends" (1963) playing "C.G./Mr.Loco"(voice) in episode: "Adman On the Loose (Krazy Kat)" (episode # 2.33) 1964
"Beetle Bailey and His Friends" (1963) playing "Lt. Forbs/Sgt. Tortoese"(voice) in episode: "Psychological Testing, The (Beetle Bailey)" (episode # 1.3) 1963
"Adventures of Jim Bowie, The" (1956) in episode: "German George" (episode # 1.25) 2/22/1957