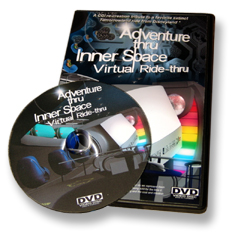 I just finished watching the Virtual Ride Thru, and viewing most of the extra materials.
It is incredible! The most amazing this is that I recall all the visuals, but none of the music or narration.
I'm sure that I'm not the first person to tell you how wonderful it is to get on that ride again, and recall the thrill I felt when I first rode it in the early 80s with my dad.
Longing for a future where I can enjoy an entire Disneyland retro-trip
on DVD,
Wil Wheaton (Actor, Author, Voice Actor)
---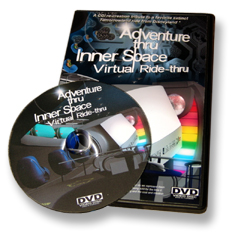 Got it and it's SO COOL!!!!! I showed it to my wife and she flipped! She went on and on about running around to get on the ride over and over as a kid with her friends. (much as my brother's and I did!) My 7 yr old son lamented that the ride was closed only 2 years before he was born and like the submarines, wishes it ATIS were still there for him to experience.
I played it at work for a few friends who are Disneyfiles and they sat agog, repeating how awesome it was that this could have been done... Of course I referred them to your website... I plan on showing it to our design staff this week as well.
GREAT work. Congratulations! I still can't believe you left a computer rendering for 3 months on one scene... MAN!
As if the site wasn't enough, I am bigger fan of yours now...
Darin Kirschner
Art Director - On Air Design
E! Networks

---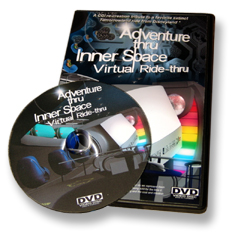 I just had to drop you a note to thank you for your amazing work on the ATIS ride-thru DVD. I have to admit despite the great reviews on your site I was a little skeptical that a computer animation would be able to really recapture the feeling I had of being a kid going to Disneyland for the first time in 1970 and riding this fascinating ride. I certainly needn't have been; I've watched it several times now, including some viewings with some friends that never went on the ride, and they absolutely love it too. It just seems better and better with each viewing. First of all, it truly captures the experience that a grainy, dark actual video of the ride can never do. An interesting impression: the fact there are no other people there gives kind of a haunting, frozen-in-time feeling to it, like you have your own private pass to Disneyland in a time warp. Your work: graphics, layout, sound editing and mixing (excellent surround FX!) is remarkable, and I look forward to seeing what future projects you'll be working on.

All the best,
Dave Fox
Artist/Composer, Denver, CO
---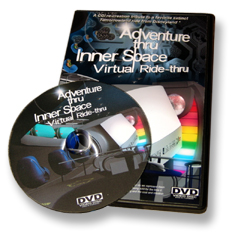 Hello Steve,

I purchased a copy of your ATIS Virtual Ridethru DVD a few months ago. I have to say that it was AMAZING!!! The quality of your work is remarkable, and the detail that went into it is commendable. My 8 year old daughter, who will never be able to see the Mighty Microscope, loves the DVD.

For those of us who miss the best ride ever at Disneyland, can still get our 'shrinking' fix at any time. You haven't just put together a simulation, but you've actually helped preserved a piece of history. As years go by and memories fade, we will still have your ridethru as a reference.

Thanks so much for your very hard work!

~~ Jason

---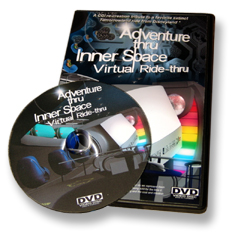 Wow, from memory and a few snap shots, this is what you made... Fantastic!!! I was just a little guy, but vaguely remember this ride.. many parts to your recreation sparked a few memories.. So, Id say you pretty much hit it on the nose. I got the DVD from Extinct attraction for ATIS, but is was pretty much 100% blackout.. Glad I have it, but at the same time, felt like a waste of $$. With your recreation, you get to see everything a video camera just can't capture. Even today, with the infrared cameras, you just cant get the detail a recreation can give you.. cant tell you how many times I have tried to film Pirates and Haunted mansion.. came out ok, but not as good a being there. The scrim gets in the way, etc.. So Im am totally on board with CGI recreations. With your atommobile and the timing on the animation, your part way there for a Haunted Mansion.-

~~ Chris

---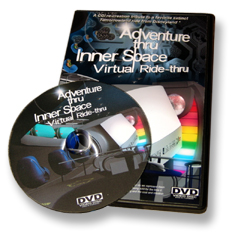 Hey Steve,
You did an amazing job recreating ATIS. I love the level of detail you achieved. I'm surprised that my favorite part is the lobby...I guess that feels the most like being there. Thanks for bringing back the best part of the best era of Tomorrowland (when it was a land of constant, harmonious motion)!

~~ Rob

---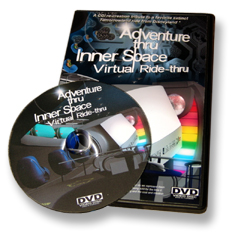 I received the DVD back in January I believe, and let me tell you, I watch it just about every day. Although I was only 5 years old when the ride closed, and not sure if I ever rode it (I went to Disneyland when I was 2 and my parents don't recall if they took me on it, nor do they even remember it), I appreciate it just as much as anyone else. Thank you so much for the DVD!

~~ Chris Smirnoff
---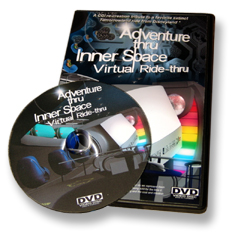 Dear Steve:
Just received the DVD. You did a brilliant job. I have a p-rojection set up in my basement. My screen is about 8' x 10' so when you project your movie it looks life sized. I was never able to ride the original ATIS so seeing this really was alot of fun. It truly felt like I was riding in the attraction. I loved the sound recording split in the 5.1 surround sound. Overall this was an excellent job, bravo!
John Brice

---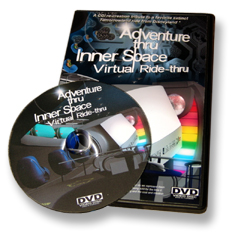 Great video! It brought back lots of memories. I remember the
first time I rode on it when I was in grade school. I was scared out
of my wits when I saw the miniaturized people going through the Mighty
Microscope. After that, it was one of my favorite rides.
You put a lot of hard work into the project and produced a great product.

Steven

---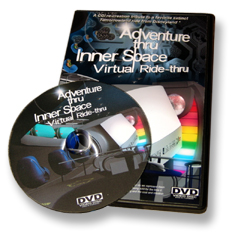 Hello Steve!
Received the first of my two DVDs today! The second one is for my friend Marianne (who misses the attraction terribly) when it arrives. What an amazing achievement!!! You have pioneered a whole-new genre with this effort. Liked also hearing your comments during the ride-thru. I had a kind of eerie sensation I can't explain while watching, but in a good way!!!

PHILO H. BARNHART (Animator, Product designer and artist)
---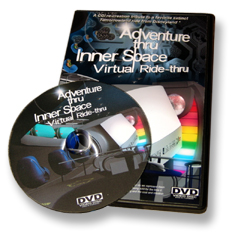 And for the Disney Geek in your life...

WWW.ATOMMOBILES.COM - Some folks have posters of their favourite Disneyland attractions, this guy spent two years of his life, countless thousands of dollars and went ahead and did a CGI version of this long missed attraction. This is a recreation of the beloved "Adventures Thru Innerspace" that was removed 20 year ago to make room for Star Tours and another nail in Tomorrowland's coffin. At $20.00, you are not only giving validation to the coolest tribute to the coolest ride ever to be seen at Disneyland, you are saying "Good Job" to a labour of love for the entire world can now enjoy in 5.1 surround…
Joe Mishica
www.metrog.com

---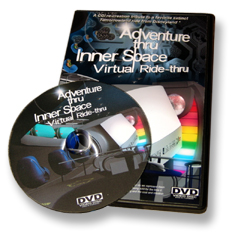 Just received and watched the DVD. Thank you for a great product. I really enjoyed it.
Kelly De Witt


---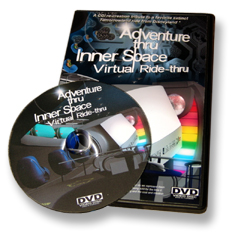 A friend of mine showed me her copy of the DVD and I was blown away. This is a very awesome thing you have done for all of us who enjoyed that ride.
Craig Spurlock

---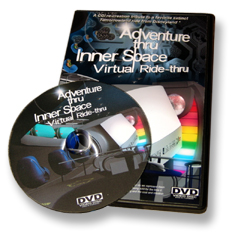 Adventure Thru Inner Space Virtual Ride-Thru : 5 out of 5
A long time ago I discovered Atommobiles.com, a fantastic tribute site to one of my favorite extinct Disneyland attractions, and I've been visiting it every now and then to check on the progress of an incredible task: re-creating the entire ride in detailed CGI animation! This amazing job was recently completed after two years of work, and the finished result is now available on DVD. Of course, I ordered a copy right away, and the experience is spectacular! Steve Wesson went all out to make this as accurate as possible, from the complete entrance and exit lobby down to the warning labels on the ride vehicles. I think I only rode the actual ride a few times on some of my first visits to Disneyland, but everything is exactly as I remember it. The DVD contains the complete ride-through in both rider perspective and "floating camera" views, and also other bonus material. This is definitely a professional looking product that every Disneyland fan should own. If you've ever traveled through the Mighty Microscope in the past, get a copy of this DVD at Atommobiles.com to relive the journey again!
Webmikey.com
---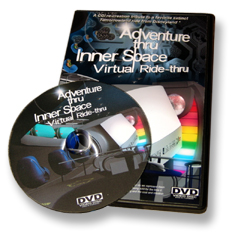 Steve;
Just got you DVD of the virtual ride thru of Inner Space. All I've got to say is YOU ARE THE MAN. You've faithfully reproduced every "atom" of this long missed ride that really captures the true essence of what a REAL Tomorrowland is all about. Along with my love for the 67 Carousel of Progress ATIS ranks up there with it. Beats the retro Rustyland that was pushed in 89. Shows that the immagineers KNEW what they were doing back then.
By the way. What software and system did you use to do this. I'm VERY interested.
Perhaps you might be interested in doing a virtual ride on the PeopleMovers and or even a bigger challenge would be to replicate the original 67 Carousel of Progress complete with Progress City.
Again, Thanks a HOLE bunch for this DVD. Love it, love it, loooooooove it!!!!!!!
Dave

---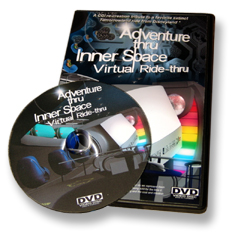 Steve,
I received the DVD a couple of days ago and watched it last night. Spectacular job! I never thought I'd have the opportunity again to step back in time 20 years and experience Inner Space again, but you somehow pulled it off. I just kept shaking my head, unable to believe how dead on everything was. I especially loved all the little details -- and you had me dying to climb into the screen and ride on of your PeopleMover cabins next! I've seen plenty of videotaped attraction ride-thrus, but yours is the only one that delivered any meaningful sensation of riding the actual ride again. Congratulations! I'll highly recommend it to anyone who asks.


My best,
David
---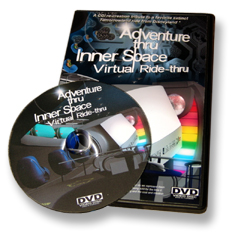 Steve-
Thanks for bringing back so many memories. I was tickled at the little things about the ride that I had forgotten and suddenly remembered when viewing the DVD. Now I can show my kids this ride---one that I had only been able to explain before. I am so glad I can bring history to life for them. Excellent, excellent, excellent!!!!


Christy
---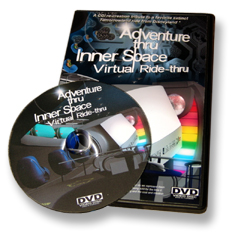 Hi Steve,
I received your DVD and adore everything you have done. What a thrilling achievement! Your treatment of Adventure Thru Inner Space is a true gift to everyone and such a beautiful and loving tribute. I experienced the ride only as a small child and couldn't really remember it, so your DVD enabled me to go back in time and re-live something that would otherwise have been totally forgotten. I hope that in the future you will consider attempting other virtual rides from Disney's past. But wherever your future leads you, I wish you fulfillment and happiness (at least equal to the happiness you have shared via this beautiful project!)
cheers,
Craig Conley
www.oneletterwords.com
---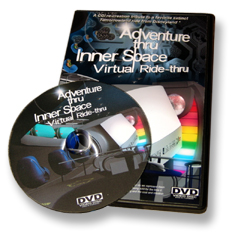 In 1967, Disneyland's New Tomorrowland opened, arguably the single greatest themed attraction project ever achieved. The project included a whopping six major new attractions: the Peoplemover, Carousel of Progress, Rocket Jets, Circle Vision, Flight to the Moon, and Adventure Thru Inner Space.
Steve Wesson's computer generated "Ride-thru" DVD recreates what I consider one of the best and certainly one the most ground breaking rides to ever come out, New Tomorrowland's Adventure Thru Inner Space. And, what an amazing DVD this is!
The DVD contains all three elements of the now extinct attraction and a host of bonus material. The new 1967 New Tomorrowland rides (along with Pirates of the Caribbean) were the first to incorporate integrated and well developed pre and post show elements. The ride-thru is true to form. The perspective is first person and it begins as anyone would have walked into the entry lobby of the attraction 35 years ago.
I remember walking into that same lobby almost 35 years ago as a kid and being scared to death. The DVD does a great job recapturing the atmosphere. The focus is on an enormous machine called the Mighty Microscope which is apparently swallowing people and shrinking them down to the size of an atom. The attention to detail and faithfulness to the real ride is amazing.
You board the ride vehicle (Disney's first use of the very successful omnimover system) and enter the Mighty Microscope. And once again, the attention to detail on the DVD is great. I continue to be in awe of two things. First, how well and how creative the Disney imagnieers were to provide a truly immersive experience given 1967 technology. Second, how well the DVD reproduces the experience with all its quirks.
Needless to say, you shrink all the way down until you come face to face with nucleus of an oxygen atom, which beats and throbs like a heart. At this point, the shrinking reverses and the ride narrator informs that there is no cause for alarm because we are back on visual. A huge eyeball appears gazing back through a microscope.
I should attest as well to the quality and faithfulness of the audio. The ride designers spent a lot of time scripting the narration, the music, and the sound effects and Steve's DVD is right on the spot in every respect.
The ride ends and we are ushered out into the exit lobby, complete with Monsanto propaganda (the ride sponsor), a beautiful floor-to-ceiling hourglass shaped oil lamp, and a fairly faithful view of the rest of Tomorrowland.
Final comment: The amount of research, the level of detail, and the execution are way beyond my expectations of a fan who worked as a hobby in his spare time over the course of a couple years. But the DVD truly speaks for itself, a must for the Disney nostalgia buff.
David Vaughnn
---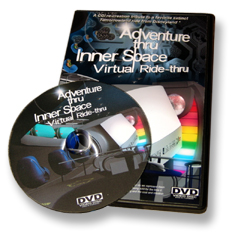 Hey steve…..
man-O-man! your butt is probably the cleanest thing on the planet right now! as everyone else has commented, that dvd is AWESOME! in the over 20 years I've been collecting Disneyland stuff, I've never run across something so immersing as your ride through! As you know, I have some rare ATIS stuff, but having your ride thru really tops it out. my microscope Atommobile whimpered for home when I played your disc for the first time (the Atommobile is next to the tv!).
Merry Monsanto X-mas!
Jordan Reichek
---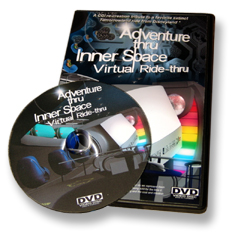 Steve -
THIS IS ABSOLUTELY UNBELIEVABLE!
You are a miracle worker. I don't know how you did it, but this virtual ride-through is a glory to behold.
Thanks so much doing such a tremendous service.
Best,
William


---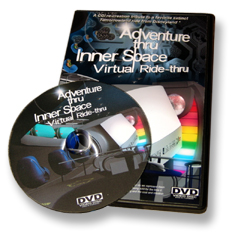 Steve,

Wow, that brought back memories! I had forgotten many details of the ride. What a great simulation! And the sound was especially great.

Thanks again!


John J.
---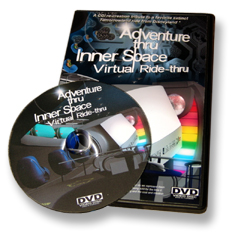 Hi Steve,

I really don't know where to begin, except to say thank you, thank you, thank you (as well as thanks to your family that was patient as you worked on this). First off, I really didn't expect to receive this before Christmas, as late as I ordered. That was remarkable in itself. But then when I sat down to watch it.... WOW! I stumbled upon your site about a year or so ago, and was impressed then. I remember reading what you planned to do, were working on, etc... and then I just kind of got distracted, forgetful, something like that.

Then I saw Kevin's review in MiceAge and right then and there, and based on what he said, and what I had previously seen, I knew I HAD to have this piece of Disneyland history.

So, again, thank you for what was obviously a labor of love, and then for sharing it with us DIsney fanatics. It is once again, just remarkable beyond words.

Merry Christmas to you and yours,

Howard Glosser
---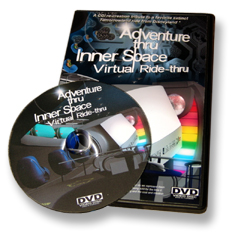 Hi Steve,
After hearing about your DVD from a friend of mine (Whimsical Will), I ordered two of your DVD's

Absolutely AWESOME DVD of my all-time favorite extinct attraction – a dream come true for me ;-)
Randy Peck

---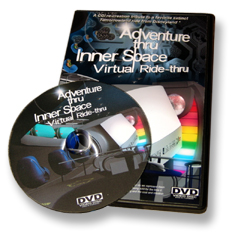 Steven,
I just wanted to let you know that I just watched the DVD last night and was amazed!! I just had to get a few copies for some friends.

Thanks so much,

Darrell Payton


---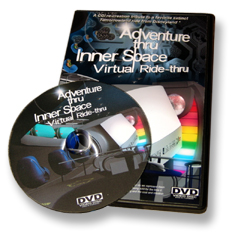 Hi Steve!
I did receive it-- saw it last night for the first time-- and I have to say, it was INCREDIBLE! Absolutely stupendous!
You've given those of us who never experienced the ride in person a great impression of what it was like; and you've also set the standard in our new genre. No matter what follows, Steve Wesson will always be the "founding father" of the virtual theme park ride-through.
I was captivated by the motion of the Omnimover vehicles and the amazing number of projections you were able to realistically recreate. The Disney design influence of that era was also clearly visible. It's easy to understand why Disneylanders remember ATIS so fondly, much in the same way Floridians have a fond affinity for "if you had wings."
I especially liked the alternate-view sequence, with the camera moves outside the vehicles. For some reason, that's my favorite perspective. Perhaps because I got a better look at how you put the whole thing together.
And I can't thank you enough for the generous mention in the credits! You've been way too kind. I'll continue to promote your DVD on my site, and I promise, I'll do everything I can to keep pushing "Virtual Toad" toward completion.
I know you must be relieved that it's finished, but in a way, it's kind of bittersweet, because we won't be able to see your work as it evolves anymore. Unless you're planning on tackling another Disney project.... !?
Best wishes and Happy Holidays,
Spencer
http://virtual-toad.com
---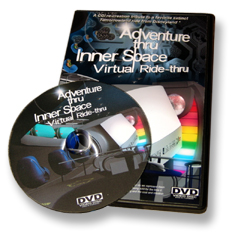 My dad's side of the family has a tradition of loving Disneyland that goes all the way back to Opening Day in 1955. And my dad and uncle in particular loved ATIS. So when we all got together for Christmas, I brought the DVD to show everyone. It was a huge hit!

I had been a little afraid that they would think both of us unconscionable geeks--you for making the film, and me for spending $20 on it. But they were extremely impressed and thanked me for bringing it. Some grand old memories were re-lived on that day.
So thank you once again for this creation. My whole family appreciates it.

Kellee
---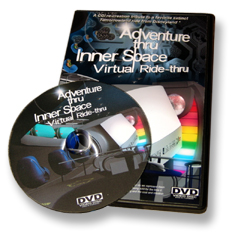 Steve, Just a note to say thank you and "WOW" for your amazing DVD. It is obvious what passion can do when you really love what you do. I'm forwarding your link to as many people as I can to get lots of them sold for you. Great job!! Well done!!
"The Oscar goes to Steve, for finding new ways to arrange pixels for our comfort and convenience! The DVD Rocks!"
Eddie Sotto (Former Senior Vice President of Concept Design at Walt Disney Imagineering)
---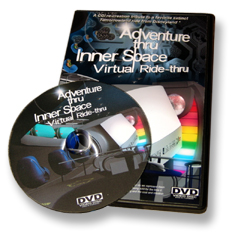 Where do I begin… the DVD is AWESOME! It is so much more than I expected, and I expected a lot. You did such a wonderful job of re-creating one of my most favorite Disneyland attractions of all time. I am truly thankful to you for all of the hard work you put into bringing ATIS back to life.
It is just so wonderful that given what little material you had to go by, you were able to re-create the ride so closely to how I remember it, and I was 26 when it closed so my memories are still quite strong. It was so real that I was craning my neck to look out of my atommobile and see the scenes as I left them, or as they approached.
Steve, again, thank you so much for taking on this project and doing such a quality job of it. Even the artwork on the disc itself is worthy of framing. Since I first found your site when it first appeared I felt that you are a fantastically talented person, and this project proves it beyond a shadow of a doubt. Good work, Steve.
Sincerely
Jeff Babb

---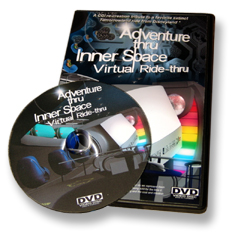 Just wanted you to know that I received the DVD last night and it was great! It really brought back great memories for me – I hope you know how much your hard work is appreciated by the fans of this fantastic ride. Now it's time for you to take break, sit back, relax, and enjoy the fruits of your labor.
Sincerely,
Clay Colvin
---
You know, any other words just can't describe it better then that one simple
word. From the DVD case, to the quality graphics, to the exceptional sound;
WOW just describes the entire product.
A tip of the mouse-ears to you and your hard work.
You may know of my work if you hang around the Newsgroups, VisionsFantastic, or #Disney-Central. I produce Disneyland ride videos taking multiple trips and editing together a unique experience. I can sympathize with your hard work and can truly appreciate the birth pains you had to go through to give this baby life. From one creator to another - you have done Walt proud.

RU
---
I got my DVD today and just wanted to say that I admire the finished piece greatly and am in awe of the work and dedication that went into creating it. I'm sure you must be pleased and proud of what you've accomplished. To me, it's nothing short of remarkable. Congratulations. You've brought the ride back to life single-handedly!
All best wishes –
Don Brockway

---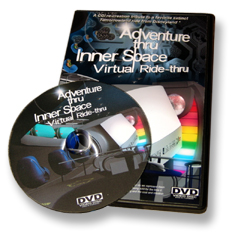 The DVD arrived yesterday and it was absolutely wonderful. To paraphrase Mastercard commercials:
One-of-a-kind DVD: $20 plus tax and shipping.

Nostalgia for a long-lost and
much beloved Disneyland ride

: Priceless.
It's strange--I was only 8 when ATIS closed, and I remember it just well enough to wish I remembered it better. Your labor of love helped me do just that. It was the next best thing to going back in time 20 years.
Hats off to a truly talented computer animator and an extremely devoted Disneyland fan!

Sincerely,
Kellee

---
What an awesome job you did on the "Adventure thru Inner Space" virtual ride-through. I watched the DVD with my 10-year-old son, who never had a chance to experience the ride (although I described it to him while we were standing in line for "Star Tours"). We both enjoyed not only the ride-through, but all the bonus items too! Kudos to you for getting this monster project done! And a tip-of-the-hat to Paul Barrie as well for the superb sound!
Clinton Alvord
---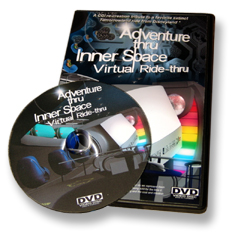 Steve,

You did an amazing job with the dvd! I can't believe how great this looks. Disney should hire you to recreate everything they've torn down! I imagine you're relieved to finish this, but have thought what you're going to do next? I've toyed with trying to build the House of the Future with a basic 3-D program, but my skills aren't up to it. I just want to say a big, "Thank You!" for bringing this ride back to life.

Bob Ammidown
---
Just wanted you to know I had a chance to watch the DVD over the weekend and it's brilliant!
After all the time and effort you poured into this project, you should be very pleased and very proud of the end result. Thanks for sharing this with all of us.
Regards,
Dale
---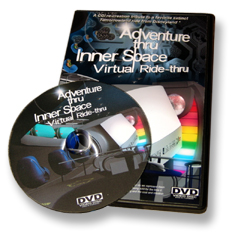 Hi, Steve!

Just wanted to thank you for the GREAT DVD! You've done a fantastic job, and thanks for sending it out so quickly! I've been looking foreward to seeing it for 2 years, and it was definetly worth the wait!

KUDOS!!! :-)
Linda Matyja
---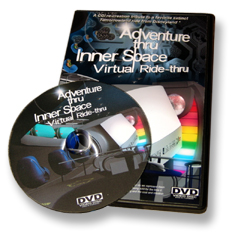 Steve,

Un-be-lieve-a-ble! I had pretty high expectations after seeing the previews you had, and you shattered all! The level of detail and the richness of the colors and everything brought this attraction back to life after nearly 20 years. You have brought this back for a new generation to enjoy.

You have an incredible talent and you used it in a way that we can all enjoy. Thanks for your hard work. I hope you realize the masterpiece you created.

Thanks
Clark Wothe